Palm Beach Pride - March 23 & 24,2024
Palm Beach Pride is a two day event that celebrates the LGBTQ community, equality and respect in a family friendly environment.
Palm Beach Pride takes place in Bryant Park in Lake Worth Beach, FL.
Where Do I Get Tickets?
Tickets are now available and can be purchased by clicking here.
Tickets - $10 pre-sale
Tickets - $12 at the gate
Anyone who is 18 years old or younger is admitted for free.
All funds raised via ticket sales go directly back into the community as services provided by Compass Community Center.
Palm Beach Pride Parking
Street parking is available throughout the downtown area. There are also paid parking lots in the area. This is Palm Beach Pride and there will be a parade, cars, and thousands of people. We suggest car pooling or taking using a ridesharing service (Uber or Lyft)
Lucerne Ave from Federal Highway to Dixie Highway
Lake Ave from Dixie Highway to S Golfview Road
The Palm Beach Pride Parade
The Palm Beach Pride Parade will be held on Sunday, March 26, 2023 at 11am.
The parade route follows Lucerne Ave west, then cuts south the Lake Ave and continues east where it ends at Bryant Park (approximately 0.9 mile).
If you, or your organization, are interested in participating, please fill out the application by clicking here. All entries must complete the application form by March 9, and have a representative attend the March 14 meeting via Zoom from 6:00 to 7:30 pm. Check in on Sunday, March 26 between 8:30 and 10:00 am.
Become a Vendor at Palm Beach Pride
Don't miss out on having a vendor space at the largest outreach event of the LGBT community. If you would like to be added to the annual mailing list to get information on becoming a vendor please email events@compassglcc.com
All vendor space are 10 x 10 in size and come with ONE 6 foot table, TWO chairs and SIX vendor passes for the entire weekend. Please note, no table cover, table skirts or table cloths are included. Additional passes can be purchased at the door. Also, single vendor spaces are all same size regardless of rate and are all under a larger 20 x 50 tent.
To participate in Pride, you must agree to our participation guidelines and code of conduct. They can be accessed by clicking here.
General Liability insurance coverage of at least $1,000,000 that protects them and names Pride as an additional insured on their policy is required. Please click here to obtain insurance.

Certificate of Insurance (COI) - All vendors must provide a $1,000,000 commercial general liability insurance policy listing Compass, Inc DBA Palm Beach Pride as the "certificate holder" and "additional insured." Compass' address is 201 N. Dixie Hwy Lake Worth Beach, FL 33460.
| | |
| --- | --- |
| Non profit vendor space | Sold Out |
| For profit vendor space | Sold Out |
| Food vendor space | Sold Out |
Food vendor spaces include access to electricity. For merchant vendors, there is a $50.00 additional charge if you require electricity. Spaces with electricity are limited and will be distributed to vendors in the order by which payments for he space are received.
Palm Beach Pride attracts more than 30,000 attendees annually throughout South Florida and the Treasure Coast. For more than two decades, Palm Beach Pride has served as Palm Beach County's largest gay & lesbian visibility event. Palm Beach Pride exemplifies the strength and growth of the gay & lesbian community by highlighting more than 140 businesses that stand by our community and welcome our business. The event features a parade, live performances and entertainment for all ages.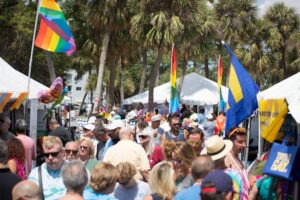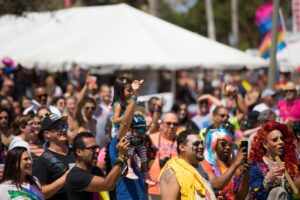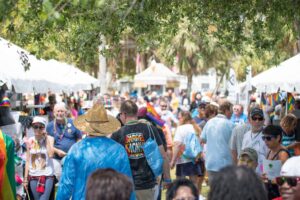 Palm Beach Pride Frequently Asked Questions